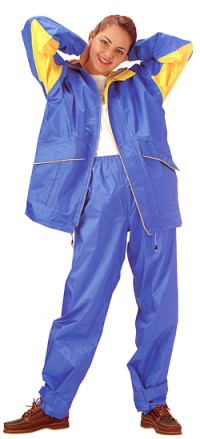 While enjoying many water sports you probably spend more time out of the water and only occasionally jump in or get splashed.
Action Sports
Watersports enthusiasts have their own distinct style that is a bit more free-spirited than land lovers. There's a certain carefree attitude that goes along with the whole package.
Much of the waterwear lineup here is really cool, keeping that groovy rebellious spirit in mind.
Warm, but not Dry
Waterwear may keep you warm, but not necessarily dry. When it is too warm to endure a wetsuit, but not right for swimwear, waterwear offers you convenience, warmth and sun protection without the hassle of a full wetsuit.
High-Tech Fabrics
Today's waterwear is made to last with high-tech fabric. We've chosen our apparel favourites from many great brands we found like Adidas, Jeantex, K-Way, Peter Strom and more, and created a wild collection of quality waterwear including updates about the latest water fashion.
Quick-drying Versatility
Smart contenders who want to enjoy their water sports in style, wear ultra-comfy functional clothing which dries fast just like boardshorts and gives protection from wind, UV rays and hard waves.
The best part about versatile waterwear is that you can leave your session and head to the beach-side tiki hut for refreshments. These clothes look just as good out of the water.
Colours
You'll find waterwear clothes in casual to wild splashy colours and various styles to suit your water sport. Choose bright colours for better visibility and safety. Yellow, orange and red stick out best should there be an emergency.
A while ago our editorial team wanted to find out how waterproof are "waterproof" clothes in a real downpour. Even if the fabric is waterproof, the design can let you down.
Leaky Gear
During our outdor tests we've noticed that no matter how good or high-tech the fabric is, we still got wet in certain places, mainly near the hood.
Test Your Wet Gear
We suggest you try out all your waterproof clothes in the shower so you know what works and what not. Get ready for some interesting fun.
We soaked our Office Junior
For the purpose of this test we've asked our poncho enthusiast Ooli to step into the shower and find out what "waterproof" really means.
He gladly volunteered, not knowing what he was letting himself into. We dressed him in jeans and a thin hoodie to make leaks more visible, and had him try out different waterproofs in the shower.
Read all about our Shower Test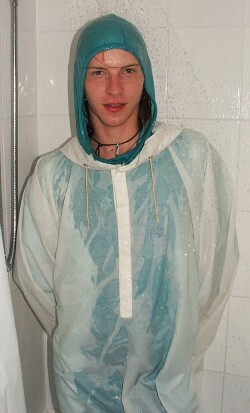 Needless to say he got completely soaked in the end, but he enjoyed this a lot as you can see form the photos.