Watersports Clothing Guide
When the weather is too hot for a wetsuit and swimwear doesn't quite fit the occasion, waterwear is your go-to clothing designed to get wet and keep you looking awesome in the water.
Waterwear brings you convenience, warmth, and sun protection. Each type serves a purpose, catering to different watersports, boating adventures, open water swimming, and even hiking escapades.
Depending on your chosen activities, you can find the perfect outfit that suits your style and needs, allowing you to move with confidence in the water. Want a short top for maximum freedom and swimming prowess? We've got you covered! Need a long garment for extra coverage? We've got that too!
Let's clear up some confusion
Anoraks, cagoules, ponchos, rain capes, you may have heard these terms floating around, but what exactly do they mean? Sometimes they're used to describe garments that aren't quite waterwear or something completely different. It's a fashion jungle out there! But fear not, we're here to guide you through it all.
So get ready to make a splash in style. Waterwear is here to elevate your game, protect you from the elements, and ensure you're always ready for your next aquatic adventure. Let's jump those waves and conquer the water in style!

Forget Swimwear
Get ready to break the rules and dive into a whole new level of swimming style. Hit the water in your stylish rain clothes and protect your skin like a true water champion!
Who needs swimwear and toxic sun lotions when you can wear unlined rain clothes? They dry faster than shorts or swimsuits and offer awesome sun protection that won't wash off like sunscreens and won't pollute the water.
Let's break free from the swimwear norms and embrace this exciting and eco-friendly swim revolution. Say goodbye to boring swimwear and hello to lightweight sunsafe fun. You save weight in your bag but also do your part to protect the environment.
It's a win-win situation! Trust us, once you try it, you'll never want to go back. Let's make a splash while making a difference.
Cost
If you've ever bought waterproof hiking equipment you already know it usually comes with a hefty price, but this doesn't have to be so. Don't go for expensive technical fabrics. Simple nylon and polyester is fine, as long as it is breathable. A good breathable anorak or poncho, rain pants, robust footwear, and a hooded rain cover for your pack have you prepared for wet days.

Test Reviews
On this website you'll find tests and reviews by our keen swimmers who will check out any kit we get our hands on and write a review with web links to suppliers.
First Look
When we see interesting new products we write a brief report for our readers, either as part of an article or on a page of its own. This might happen at a shop, a trade show, or some other event.
Full Reviews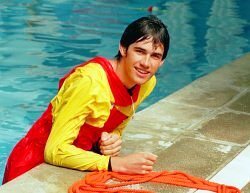 Pool Test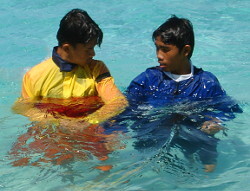 Beach Test
Whenever we get our hands on new watersports gear we test it under realistic conditions for a detailed full review. These get updated over time after we've used the samples for a while.
First we try the products in the pool to see how they fit and feel to check how comfortable it really is. Next we see how it performs during watersports like canoeing, sailing, or surfing, and how good the design is for readers who really enjoy watersports, rather than wear it as a fashion statement.
Manufacturers: Promote !
If you're a manufacturer or supplier of swimming clothes or watersport accessories, send us products for review. You get publicity on a busy website for the cost of a product sample. Reviews carry a clickable link to the supplier's website so our readers can order the products we've reviewed. If a supplier provides more than one item, they get a dedicated section with a company profile.
Affiliate Partnerships
When we come across really good products, we like to share them with our readers who come here to find the best and most original swimwear. If you run an affiliate program, talk to us.