Anoraks for Watersports
You need rain gear. The office type has the trench coat. The outdoors type has North Face. But what about the watersports type?
The humble anorak has long suffered from a crisis of misidentity. Not all pullovers and hooded jackets are anoraks, but all anoraks are, by definition, hooded pullovers. Those are their two defining characteristics.
The word itself, as you probably guessed, has northerly origins: anorak derives from a Greenlandic word for a garment worn in the early 1900s, but was later co-opted by the fasion world to describe zipperless parkas that resembled those worn by the Inuit and other near-Arctic peoples.
The style was popularized in England in the 1980s and '90s, the word even becoming an epithet of sorts to describe niche enthusiasts like trainspotters, groups among whom the anorak jacket was popular.
In recent years the anorak has increasingly found footing as both a streetwear and as a technical essential. You're just as likely to see one on a sneakerhead as on an open water swimmer. The former loves it for its billowy proportions, bold styling and nods to '90s fasion, while the latter embraces its underrated functionality.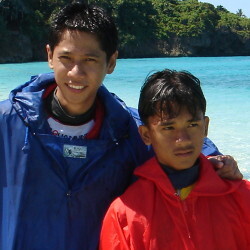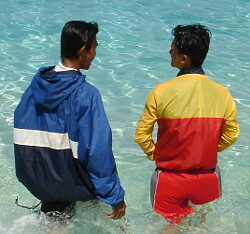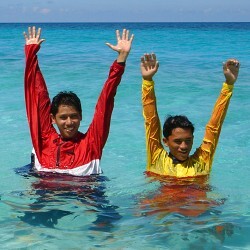 Fabrics
Look out for a soft breathable fabric. Most anoraks are made of windproof or showerproof nylon fabric. The lighter ones are made of silky soft Pertex. Some expensive anoraks and jackets may be waterproof, most are not.
Don't bother with expensive fabrics. They are only slightly more waterproof. You might as well wear two simple anoraks for a similar effect. When used as swimwear all this is not important, so focus more on the feel of the fabric.
Front Pocket
The lack of a zipper means that anoraks often come with a large-format "kangaroo" pocket, which offers easy access to snacks, gadgets, handwarmers and the like.
Make sure you get at least one zipped pocket so you can keep a locker key or small change in it. Some anoraks and many canoeing cags have pockets with drain holes, which keeps the weight down during frequent immersions, like stand-up paddling or kayak rolling.
The anorak can be folded into itself by using the built-in kangaroo pocket, or packed into a protective case that can be stored or worn on the belt.

Hoods
Hoods are essential if you wish to stay warm and reasonable dry. Without a hood, rain or spray will run into your collar and soak your clothes underneath. For most watersports that may not matter, but when hiking or out in town, you want to a hood with a good seal around your face.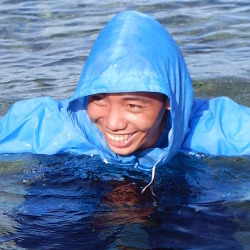 Loose fit for better ventilation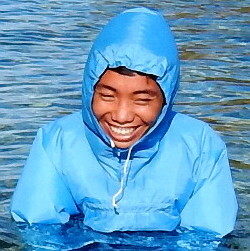 Tight fit keeps more water out
Less Bulk
An anorak rain hoodie with only a short zip closure on the top, or none, is more comfortable one with a bulky zip all the way down the front. It weighs less and is not so stiff, which helps during watersports or swimming.
Lightweight anoraks are ideal for outdoor activities where weight could be a consideration. Many people buy anoraks as a lightweight coat for wet sports, available in popular team colours. This practical outfit looks good around town, but is useful for many watersports because it keeps you warm when you get wet or go swimming.
Suncream Alternative
If you have sensitive skin, a hooded anorak is a comfortable alternative to traditional sun screen products. It doesn't wash off when swimming and remains wearable after you've been in the water and has good air circulation.
A wet anorak keeps you cool on hot days and feels pleasant as it dries in the breeze. Matching tops and pants make this a practical outfit on land or in the water.
Ask us about Test Reviews
If you're a manufacturer or distributor of anoraks, you can contact us via the email link on top and bottom of this page and we'll reply with our shipping details and answer any questions you may have.