Essential Hoods
Get used to wearing a hood. It keeps you dry for longer, warm on windy days, and avoids sunburn.
Hoods are an essential part of any proper watersports kit because they add many useful features. They come in a wide variety of designs and styles. Details make all the difference in the usefulness of your hood. Which one works out best for you depends on what you use them for.
No More Hats
A hood usually weighs less than a hat, always stays with you, no matter what you do, and doesn't fall off like a hat in the heat of the action. In cooler weather it keeps your head warmer by reducing heat loss and wind chill. You can lose up to 30% of your body heat through your head.
Proper Fit
Make sure your hood fits well and does not block your vision. In heavy rain you may want to tie it closely around your face. If the hood is too big you won't see much then. Some hoods have an adjustment strap on the back to reduce the volume and provide a good tight fit, so it won't shift around and cover your face. Instead it turns with your head for better visibility.
The hood should fit snugly around your head and stay put as you enjoy your water sports. A well fitting hood cinched in tight stays put no matter what you do, whether you run, jump or swim underwater.

Three Ways to Wear Your Hood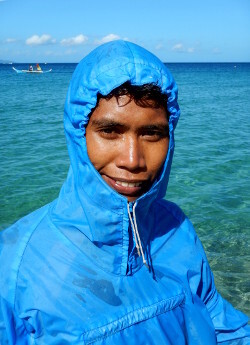 When you wear your hood up, less water comes in, you stay warmer, and have better sun protection.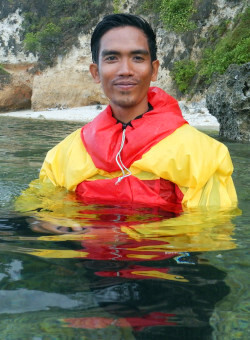 You could keep the hood down and tie it round your neck for better visibility, but some water will run down into your collar.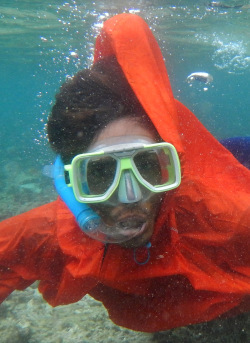 When you wear your hood loose, it will float around more, and water or air bubbles may collect in it.
Waterproofing Test
A hood keeps you warm but not always dry. It leaks around the face in heavy rain or spray. Learn to live with it.
Before you head out for adventure, find out how waterproof your hood is. Most hoods leak, the question is how much.
Here is how to test it. Wear a hooded long sleeve T-shirt underneath so you can spot where leaks may appear. Then wear the garment you want to test. Put the hood up and check for a proper fit.
Next step into the shower or have a friend hose you down from top to bottom, beginning from the backside, then the front and finally the face.
When you take the garment off you'll see any leaks on the clothes you wore underneath. The face opening is where most water comes in.
Make sure any hooded water clothes fit well or they can be annoying. Wear them in the water as you would during your adventures, with swim shirts underneath your anoraks, cagoules or ponchos. Try this out in your bath at home or in the local swimming pool. Maybe your friends want to come and splash around. It's great fun.