Sun Ponchos for Comfy UV Protection
For sun protection a new fashion is hitting the beach

. When Lycra swim shirts feel too tight or too hot, use a sun poncho instead.

Sun capes are loose fitting and airy, comfy to wear and more versatile. The hood protects your head but won't get lost like a sun hat. You can use it as a changing room or for swimming when you forgot your swimwear.
Lightweight Sun Protection
We prefer lightweight breathable nylon ponchos on the beach. They don't soak up much water when swimming and dry quickly. You can get them in good outdoor adventure shops, just ask for hiking ponchos.
Design
Sun capes and ponchos are similar to anoraks or cagoules, but larger and wider for better air circulation. The lightweight breathable fabric is quick drying and comfortable on land or in the water. Matching pants make this a most practical outfit.
Sun ponchos are your year-round accessory for everyday life, taking you from swimming and running errands to evenings on the town. Their flowing, effortless elegance will make them fast a favourite in your wardrobe. The soft and cosy nylon or polyester fabric that drapes beautifully and feels luxurious against your skin creating an effortlessly elegant look that is simply stunning.

Hood
The hood is the most important part, as it provides rain and sun protection for your head without the need to carry a hat around. It is fitted and thus won't get lost or blown away like hat. Make sure it fits well. It should turn with your head and not obstruct your vision.
Portable Changing Room
Ponchos make a handy changing room on the beach. Just slip it over and you can change into different clothes in complete privacy without juggling a towel around your waist. If you don't have any swim clothes to hand, wear the poncho or cape instead.
Swimming
These sun ponchos are great fun for splashing around in the water, but not for fast swimming. We found that these sun ponchos are very easy to swim in. You won't break any speed records as they slow you down a bit, but for a relaxed swim on the beach they are just right. The soft fabric feels nice on the skin and hugs you as you move forward through the water.
Safety
Make sure they have a fastener at the bottom which clips the front to the back and thus keeps it from going over your head in the wind or in water. Others have a waistband in the back that keeps it in place.

Key Points
Practical for sun protection in tropical climates.
Breathable, but not always waterproof.
Lightweight, soft and quick drying fabric.
Can be used instead of swimwear if necessary.
Hood provides good sun cover.
Capes are T-shaped with closed sides.
Capes have long or short sleeves, or small front openings.
Ponchos are open on the side for better ventilation.
A leg strap avoids it going over your head when swimming.
Popular in Asia
Sun ponchos are always popular with our photo models, especially in Thailand and the Philippines. They don't want to get a tan, so this provides a great solution for playing in the water.
During a beach photo shoot in the Philippines our boat crew came out of the shadows when we put on sun ponchos and went into the sea. They asked if we had any extra ones for them (we did) and went swimming with delight. Being able to play in the sun and sea without getting burned was great fun for them. They wore the sun capes in and out of the water all afternoon.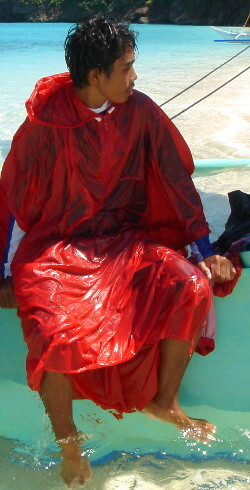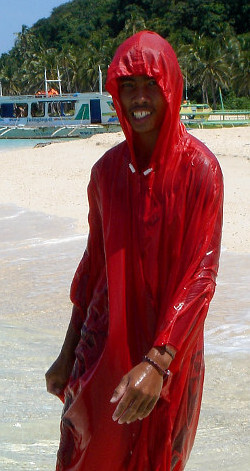 Sailor Comment
Ramon, Boracay, Philippines.
Working with Boats
My friends and I work with boats in the Philippines, taking tourists to remote beaches. We go in and out of the water all day long. Our nylon ponchos protect us from the intense sun and sunburn.
These loose fitting ponchos give good sun cover while we work with our boats and keep us cool when wet. Being able to stay in the sun and sea without getting burned is important for us.
On the Beach
When we arrive at a nice beach we sit in the shade to eat and relax. After a while we put on our red ponchos and go swimming with with our guests. We offer them some ponchos to wear on the beach and in the sea, but most want a tan. Some guests decide to swim in our ponchos and are surprised how good that feels.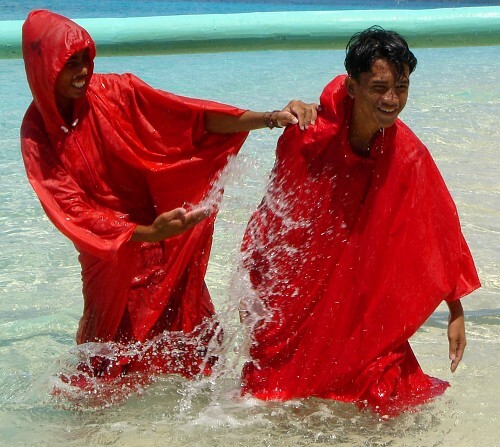 We cool off and play in the water whenever we have time.